Custom, Affordable, Easy To Assemble With Only One Tool for Double Decker exhibits
Why choose Top deck Systems?
Alusett offers designers and exhibitors greater versatility at a lower cost.
Our multi-function components, wide array of color choices, ability to incorporate a variety of materials, and special construction capabilities allow you unlimited flexibility in design and construction—from a system look to a combination system and custom look, or a completely specialized design.
An exhibit can be re-configured with the same components for varying floor spaces and shows.
The value of Alusett systems is in their outstanding strength and durability, leading to longer life.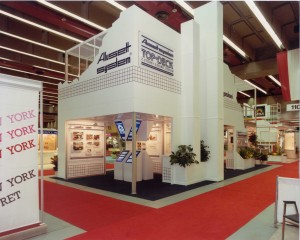 Multi-function components and lighter weight reduce costs for construction, packaging, shipping, drayage, and storage.
Installation and dismantling are fast and easy, too. Alusett's modular systems are versatile enough to work in any environment, for small exhibitors, retailers, or large corporations, in portable or permanent settings.
And the lower costs allow exhibitors to expand their marketing efforts to more shows, reaching a greater number of customers using the Alusett Systems – Double Decker exhibits.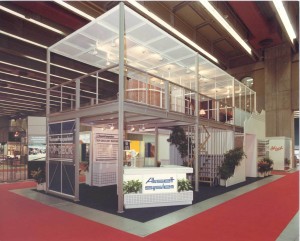 Here's A Few More Reasons To Choose Top Deck Systems
Aluminium construction
Frames are extremely strong and durable
Frames are highly resistant to chemicals and atmospheric conditions
Aluminium construction is recyclable
Availability of original parts is guaranteed for 10 years
Matte finish resists dirt and scraches
Easy maintenance and repair
Galvanized steel is used at joint sites to maximize structure's strength and long service life
Lightweight aluminium
Reduced costs for packaging, shipping, drayage, installation/dismantling and storage
No single part is heavier than 110 pounds (50 kg)
Easy assembly by carpenters
No need for forklifts, scaffolding or heavy equipment during assembly
Modular components
System is completely flexible and re-usable
You can reconfigure your design with the same components for a new shape or size
Carpet and wall panels can be changed for a new look
Neutral anodized matte finish fits many designs
Other anodized color selections are available
System can be custom painted for a new look
Grid system with sizes ranging from one to four meters
System can be expanded as your needs change over the years
Top deck is fully compatible with all other Alusett exhibit systems
Patent connector system
Easy, logical assembly
Only tools needed: socket wrenches, Allen wrenches and ladders
No need for high-priced labor
Precise German engineering for Double Decker exhibits
Top Deck is structurally sound, sturdy and extremely stable
At an average weight of 200 lbs. per person Top Deck would easily support many more persons than can actually be accommodated
Top Deck has heavier walls than other modular extruded systems for greater strength and fewer ceiling supports
Stress and loading specifications are pre-calculated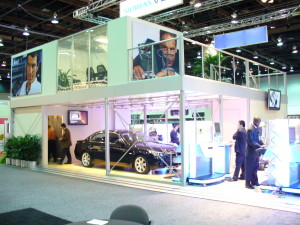 Just give us at call at 1 (800) 434 0444 or use our contact form or email us at info@britteninc.com for a quick quote and one-on-one service.