Double Your Impact And Visibility And Much More With Two Story Exhibits
Here are a few benefits why you should use a two story exhibit:
Get more impact for your floor rental dollars

Gain valuable visibility on the show floor with double deck exhbits

Display additional products without additional floor space using a Double Decker exhibit

Offer visitors an open observation area

Use a double deck exhibit to offer customers a conference room

View your products from above using a double deck exhibit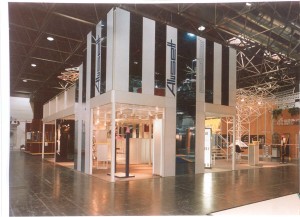 Since 1968 Alusett has designed and engineered a variety of architectural quality aluminium exhibit systems.
Top Decks Modular aluminium extruded frames and connector system have been precisely engineered and designed in Germany.
Our Top Deck Double Decker exhibit connectors are engineered for strength and long life over multiple uses.
A pre-fabricated staircase is integrated into the two-story structure.
Top Deck components are precision-manufactured in the United States and are available for immediate delivery.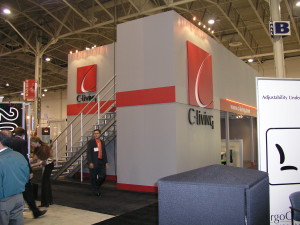 Just give us at call at 1 (800) 434 0444 or use our contact form or email us at info@alusett.com for a quick quote and one-on-one service for Double Decker exhibits.
If you're asking "Why should I use Top Deck Systems two story exhibits display?" then check this out: Why Top Deck Systems? for more details why so many tradeshow exhibit builders use us.